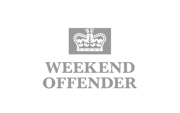 Weekend Offender was born in Wales in a small town in the province of Cardiff in 2004 with the idea of ​​giving life to a new label with important and individual garments for the most fashionable people. The personality of this brand immediately emerges and is strongly inspired by the style of English football fans. In a few years Weekend Offender takes hold across the UK, from pubs to streets to stadiums, earning international fame. The name chosen for the brand reflects the brand's ethos: "weekend offenders can be anyone". The collections therefore offer a wide selection of contemporary looks that can be customized like the person who wears them, quality design garments, functional with maximum attention to detail.
Discover the Weekend Offender men's clothing collection on Nuvolari.biz
The latest Weekend Offender clothing collections for men are on the Nuvolari store. Bring a breath of fresh air to your wardrobe with the functional, bold, elegant and fun style of this brand that makes its hooligans, musical and subcultural graphics its strengths. T-shirts, pants but also sweatshirts, jackets, hats and costumes. A fashion for the whole year that always manages to surprise you and bring out your character and your uniqueness. Buy your favorite men's fashion brands on the Nuvolari store at advantageous prices and receive your order home in a few days with our worldwide shipping services.