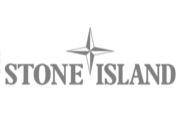 The Italian brand Stone Island was founded in 1982, in the province of Modena, and it is considered one of the most prestigious brands in the sportswear scene. The company has always had an obsessive attention to fabrics and their use. This extreme research on fibers and fabrics is then applied to an innovative design. The brand's mission consists precisely in creating practical and functional clothing (thanks to innovation and technological research) with a modern and recognizable design. Garments designed for a man with an adventurous spirit, as the logo also confirms. It is a compass rose, symbol of the brand's spirit of research and freedom, which is applied with a patch on the various garments.
The Stone Island men's collection on the Nuvolari online store
On the Nuvolari.biz online store you will find a wide range of Stone Island men's t-shirts, sweatshirts and jackets. Not only that, we also have Stone Island men's polo shirts, swimsuits, trousers and sweaters. All the items listed are available in various sizes and colors. Very often, on our store you can buy this and all your favorite fashion brands at promotional prices. Complete your wardrobe with the informal but refined style of Stone Island and the right pair of sneakers.