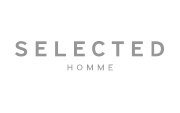 Selected is a clothing brand for men and women that combines Scandinavian style with a refined classic taste, always attentive to details and the quality of the garments. The brand was launched in Denmark in 1997 and puts the expression of one's personality first through style. The key points to describe this brand are the pursuit of perfection in detail and clean and elegant lines. This is a constantly evolving brand, always in step with the latest trends. Selected Homme, the branch dedicated to men's clothing, is all that a modern man could need. It is suitable for any occasion of use of menswear: from casual to classic, up to more formal clothing.
Discover the Selected Homme selection by Nuvolari
Try to mix Selected Homme clothing with the other items in your wardrobe for an always up-to-date, fresh and fashionable look. What we have chosen for you on Nuvolari.biz is the best of the new collection. Try it and you will surely be amazed. Jeans, t-shirts, sweatshirts, sweaters, shirts, jackets, trousers... all the essential items for a complete wardrobe, perfect for any occasion. In addition, only on our portal will you find the products made exclusively by some of the most important brands only for Nuvolari. Buy Selected Homme and all the best clothing brands on the Nuvolari online shop at great prices. We ship worldwide in a few days. Only original products.