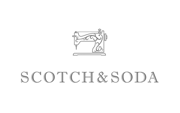 Scotch & Soda is a Dutch clothing brand born in 1985 that interprets the "dandy "and dreamer look in a modern key. Collections with a neo-romantic taste in which textured fabrics are mixed with denim; stripes with damask fabrics or stone cottons wash. A brand that through fashion celebrates the free spirit typical of Amsterdam, its power of expression and its uniqueness. Wear Scotch and Soda clothing for your rebellious outfits. An unconventional brand that is always attentive to fashion and also to the environment. One of the main priorities of Scotch & Soda is to work respecting the environment, with responsible choices aimed at reducing the environmental impact of production. A fashion that is above any kind of discrimination, with which each of us has the opportunity to identify.
Discover the Scotch & Soda men's collection on the Nuvolari store
Nuvolari fashion experts have selected for you the best items from the Scotch & Soda men's clothing collection. Pants and shirts with vintage references in which a mix of influences from all over the world is created. Complete your casual outfits with these items with a fresh, informal, comfortable and at the same time elegant style. Buy Scotch & Soda and all the best men's fashion brands on the Nuvolari online store at advantageous prices.