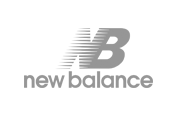 New Balance was born in 1906 when William J. Riley began producing the first arch supports to improve the comfort of footwear. For many years the brand was intended for a very limited audience since the shoes were sold through word of mouth. In the '70s, with the explosion of the running phenomenon, the company had considerable success until it became a global giant, recognized for the quality of the materials, the technical characteristics and the accurate finishes. In those years, with the 320 model, the identifying 'N' logo makes its first appereance. New Balance shoes for men today are not only synonymous with technical research and quality but also with lifestyle. Not just a fashion brand, but a real symbol for different subcultures linked above all to the world of music and sport.
Discover the New Balance men's shoes collection on Nuvolari
We have selected for you the most iconic models of New Balance men's sneakers, including the New Balance 997, 574, 11500, X-racer... classic models and revisited models with innovative designs and colors. Running shoes that stand out for the quality of the materials, the lightness, the resistance over time, the feeling of comfort that they give when they are worn. A casual sporty style that is both sophisticated and practical. Buy the men's sneakers of the best brands on Nuvolari at exclusive prices and receive it home in a few days with our worldwide shipping services.