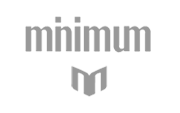 Minimum is a Danish fashion brand that started with a small retail store in 1997 in a small port city. To date this brand has also managed to conquer the entire Europe market with its clean lines and nordic men's clothing style. Essential items, micro patterns, clean lines. These are the distinctive features of the Minimum brand, which accompanies you in everyday life with simplicity and taste. The brand's philosophy is to produce functional and elegant garments, using only the best materials but keeping prices affordable. A metropolitan clothing in which classic garments are reinvented in a modern and Nordic style. A real must have for the contemporary man who loves essential lines without ever being banal.
Discover the Minimum Denmark clothing for men on the Nuvolari store
Our men's fashion experts have selected some of Minimum's most interesting pieces for you. Long sleeves men's shirts in intense colors, monochromatic or with particular patterns. Fresh and trendy striped short sleeve shirts. Basic short sleeves T-shirt in very soft cotton with slub workmanship. These are just some of the Minimum fashion label products that you can buy online on Nuvolari.biz at advantageous prices. Bring a fresh breath of metropolitan style from Northern Europe to your wardrobe. Buy only original products on our store and receive it home in a few days, wherever you live, thanks to our worldwide fast shipping services.