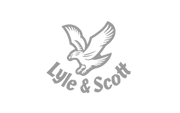 The Scottish brand Lyle & Scott, founded in 1874, is a real status symbol. A cult brand for all young British but also for all trendy young people in Europe. Lyle & Scott shirts, jackets and polo shirts are real must-haves. To such an extent that they have become part of the daily clothing of rock stars such as Pete Doherty, Arctic Monkeys and Red Hot Chili Peppers. True style icons, which are used to wear them with skinny jeans and sneakers. Nowadays Lyle & Scott it is mostly appreciated bt the indie scene, and also has a strong presence in the casual clothing of football scene. However, all people from various different backgrounds can find a reliable brand in Lyle and Scott.
New collection and discounted mens Lyle & Scott garments on the Nuvolari store
Discover the best Lyle and Scott clothing items on our online store and give a touch of rock and sporty look to your looks at the same time. The selection is huge, both of items from the new collection and from last year. The latter at discounted prices in the outlet section. T-shirts, sweaters, pants, jackets, jumpers, scarves, accessories... fill your wardrobe with the unmistakable Lyle and Scott style. Buying on the Nuvolari online shop means buying in maximum safety; only original garments; worldwide shipping.