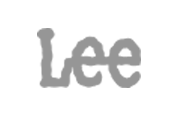 The Lee jeans brand was founded in 1889 in Salina, Kansas. Given the Salina factory workers' need for workwear that was comfortable and durable, Henry David Lee developed the Union-All overalls. Lee's breathable yet sturdy jeans pants were also born to meet these needs. The Lee brand in a few years specialized in the production of work clothes for mechanics, farmers and other manual work. To date, the brand with over 100 years of experience in the sector produces a total look collection that ranges from jeans to shirts. These collections are characterized by a strong western flavor. Nuvolari has chosen the experience, prestige and quality of the Lee Jeans brand to create a collaborative collection sold exclusively in our stores.
Discover the Lee men's jeans and clothing collection on the Nuvolari store
Lee jeans for men are the ideal choice for those who want to feel free and always at ease, without ever giving up on being fashionable. The Lee men's jeans collection stands out for the quality of the fabrics, combined with trendy lines and an iconic style. Jeans with different cuts, fits and washes, which will surely win you over. Not only that, on our store you can also find some absolutely unmissable Lee jeans jackets and shirts. Buy Lee and all your men's fashion brands on the Nuvolari store at exclusive prices and receive it home in a few days with out wolrdwidee shipping services.