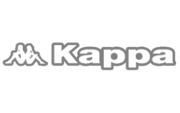 Born in 1967 in Turin, the Italian brand Kappa offers an assortment of streetwear garments with a retro flavor for an authentic look and always in step with the latest trends. Actually the history linked to this brand begins much earlier. We are in 1916, when the Società Anonima Calzificio Torinese and the Manifattura Tessuti Maglieria Spa are born. In 1955 these two companies merge, giving life to Maglificio Calzificio Torinese. In 1956, following a batch of flawed socks, distributed and withdrawn from the market, the company decided to juxtapose a 'Kontroll' guarantee sign for subsequent supplies, effectively symbolized by a " K ".
In the 1960's, however, the sales of underwear collapsed, due to the desire of the young people of the time to break the rules. The brand adapts to these requests and begins to print big the iconic Kappa logo on the shirts. Hence "Robe di Kappa", the first made in Italy brand conceived by customers.
Discover the Kappa men's collection on the Nuvolari store
Kappa is one of the most loved Made in Italy sports fashion brands. The use of oversized logos, vertical colored stripes and oversized fit are the trademarks of this brand. That's why a selection of the best Kappa men's garments could not be missing in the Nuvolari store. You can choose from the best models of Kappa tracksuits and sweatshirts but also t-shirts and bomber jackets. Buy this and all your favourite men's fashion brands at advantageous prices on the Nuvolari store.