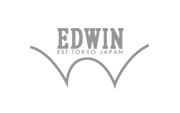 Quality, washes and fine fabrics are the distinctive features of the Edwin clothing brand. A brand that has made the history of Japanese jeans all over the world since 1947. Denim for this brand is a lifestyle, a cult linked to American history and freedom that it represents. Today the jeans brand exports its products all over the world and it's a true icon for the japanese style fashion lovers. Not only jeans but also a complete collection of clothing items that are made irresistible by the oriental touch that characterizes them. Nuvolari has a real passion for fine denim jeans and Edwin is certainly one of the most important brands in the sector.
Shop online Edwin clothing mens collection on Nuvolari.biz
Of course, for our selection, we start with the Edwin japanese jeans that have made the brand famous all over the world. We have selected for you the best slim and regular jeans in various colors. Give yourself the feeling of wearing one of the finest denims in the world. As we said, however, not only jeans but also t-shirts and sweatshirts with printed Japanese details; check shirts with intense colors and simple, warm and elegant winter beanies. Discover the Edwin clothing brand style on the Nuvolari online store at great prices and receive it home in a few days with our worldwide shipping services.