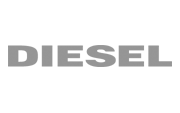 The Diesel clothing brand was founded in Italy by Renzo Rosso in 1978. This brand was born from a foreseen desire, that of providing an alternative to the traditional giants of casual fashion. The main goal is to create the most innovative denim in the world. The name was also born from this desire to stand out, given that at the time the only alternative to the oil crisis was Diesel. From a leading company in the denim sector to a point of reference in the world of quality casual clothing within a few years. But despite the evolution and the great success, the company's philosophy has remained unchanged over time. Even today this 100% italian brand is synonymous with passion, individuality and expression of one's personality.
Discover the Diesel men's clothing collection on the Nuvolari store
Nuvolari has selected for you the most interesting models of the new men's Diesel clothing collection. Let's start first from the strong point of the brand, denim. A careful selection of jeans with different cuts and the most varied colors, suitable for any occasion. We continue our selection with Diesel t-shirts and sweatshirts with the clearly visible printed logo, available in different variations. You will also find black or brown leather belts and an exclusive denim jacket made for Coca Cola. Buy Diesel clothing online on Nuvolari at the best prices and receive it home in a few days with our worldwide shipping services.