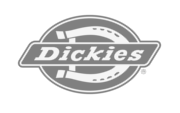 Since 1922, Dickies clothing has been a symbol of the quality, strength and pride that embody the spirit of the American worker. Becoming the world's first manufacturer of workwear, These brands collections are always evolving and adapting to the new trends, becoming a must have for every fashion lover.
The history of the Dickies brand
In 1926 Dickies revolutionized the world of streetwear and workwear by presenting the famous 874 trousers, in polycotton - without pleats - with flat stomach and permanent crease. In the 60s it also brought two important innovations: the 65% polyester and 35% cotton standard was born, which makes the clothes of this brand indestructible. In addition, the button on the trousers is replaced by the zipper, making their trousers iconic. Even celebrities since the 90s begin to wear Dickies clothing frequently: Justin Timberlake, Avril Lavigne, Drew Berrymore and Gwen Stefani, to name a few. This brand continues today to be a leader in both streetwear and workwear.
Nuvolari is your Dickies brand retailer
Winter beanies; long-sleeved shirts in corduroy or check pattern; sweatshirts, jackets and parkas. The Dickies men's clothing collection is perfect for all lovers of casual and American style. Garments with resistant and sturdy fabrics, with simple lines but with great personality, suitable both as workwear and as fashionable garments. Nuvolari is your official Dickies brand retailer, with great prices, safe payments and wordlwide shipping services.