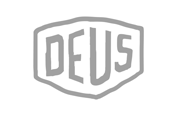 Deus Ex Machina is an Australian brand born in 2005 from the love for the world of motorcycles, bicycles and surfing. A brand made of creativity and craftsmanship, which also embraces fashion with a line of clothing and accessories. An interesting mix between a motorcycle-surf and retro taste, with particular graphics and fantasy combinations. The Deus ex-Machina workshops are defined as temples of enthusiasm. They are characterized by large exhibition spaces with workshop, shop and café. Places to experiment, see and touch rare objects. Places where the world of motorcycles, bicycles and surfing meet and merge with the world of fashion. There are 4 laboratories around the world: Sydney, Bali, Los Angeles and Milan.
Discover Deus ex Machina clothing men's collection on the Nuvolari online store
Nuvolari has selected for you some pieces from the latest Deus ex Machina clothing collection for men: short sleeves t-shirts with different patterns that reflect the world of surfing and motorcycles; hats with visor and beanie with printed logo, jeans jacket with unmistakable style patches. Your wardrobe cannot miss this brand, one of the coolest in circulation, appreciated also by the true men's style icon David Beckham. Buy online at the best prices Deus ex Machina clothing on Nuvolari.biz and receive it home in a few days with our worldwide shipping services.