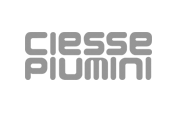 The Ciesse Piumini brand was born in 1976 from the intuition of its founder, Silvano Cinelli. The brand's name is precisely the fusion between the first two initials of his surname and the first letter of his name. Ciesse Piumini is a leader in Italy in the processing of feathers and in the production of technical garments resistant to low temperatures. The historic brand produces comfortable, warm and soft duvets, suitable for the city as well as the mountains and with a strongly Italian style. Since the 1980s, Ciesse Piumini down jackets have become a true cult, accompanying important climbs in the Himalayas and expeditions to Antarctica. After 20 years in which the brand has been a little less performing, since 2011 the product is reborn and returns to a great trend.
Ciesse Piumini down jackets for men on the Nuvolari store
Ciesse men's down jackets are garments with a strong technological content, but also attentive to the evolution of the urban style. The ever-present logo, the ligrone, encloses the strength of the lion and the innate elegance of the tiger, which also represent the strengths of the brand. Nuvolari selects for you the best jackets but also the best t-shirts and sweatshirts from the new Ciesse men's collection. Buy Ciesse down jacket italian brand products on our store and receive it home in a few days with our fast worldwide shipping services.