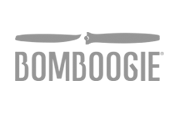 Bomboogie is a historic Italian brand specialized in men's outerwear. A perfect mix of tradition and future with aviator-style italian leather jackets with a contemporary line. The entire line proposed by Boombogie is suitable for a gritty and never excessive look, the important thing is to stand out. The brand was born in 1991 and takes its name from the story of a B17 bomber that disappeared during the Second World War. This brand is closely linked to Nose Art, adventure and mystery. The strength of this brand is its ability to contextualize army references within the modern urban habitat. The garments therefore, in addition to having an irrepressible aesthetic component, are also very functional and practical.
Discover the Bomboogie men's collection of italian leather jackets
The main item of the Bomboogie collection is definitely the leather jacket. Discover for example the Jmroke model, made of 100% genuine leather and with a unique style. Quality of Made in Italy materials and workmanship together with a design that gives strength and grit to every outfit. Buy the best italian leather jackets for men by Bomboogie on the Nuvolari store at great prices. If you love military-inspired products, complete your outerwear wardrobe with a bomber jacket from the Alpha Industries collection. Buy it on our store!