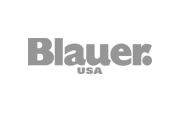 Born in 1935 with the aim of dressing the US law enforcement, the Blauer brand boasts an experience of over 60 years in the production of technical garments. Their motto is "Uncomprimising Performance" or performance without compromise. Based on this philosophy, Blauer produces garments with high technical characteristics without sacrificing comfort and the right fit. Blauer men's clothing items are not only beautiful to admire but also performing and lasting over time.
The best Blauer men's down jackets, jerseys and shirts on the Nuvolari store
The most loved products of the brand are definitely the Blauer men's down jackets. The concept of uniform is transformed in a modern key and we find it right in the Blauer jackets. The uniforms produced more than 60 years ago evolve into military-inspired, practical and high-quality down jackets. Warm, resistant and versatile. Trendy colors but also the classic black and white. The particular stitching with geometric effects and the inevitable brand shield. A unique piece of clothing of its kind, with an unmistakable style and a strong and decisive character. Nuvolari is your new trusted Blauer shop: buy the new collection of Blauer down jackets on the Nuvolari store with free shipping and returns. In addition, in the sales section you will find sweaters, polo shirts and shirts at discounted prices.