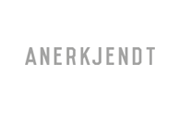 Anerkjendt is a young Danish streetwear company founded in 2011, which takes its inspiration from the working world, reinterpreting it in a folk key. Each garment is designed to meet the needs of the modern man, who lives in the city and is immersed in metropolitan rhythms, without never lose sight of comfort and original design. The style is casual, with soft fabrics and eccentric and authentic models. This brand knows how to give you a truly personal look. Anerkjendt fashion is characterized by its reinterpretation of traditional fashion items with modernity and humor playing with colors and fabrics. The quality of the fabrics and workmanship, the uniqueness of the style and the continuous research are the strengths of this brand loved by young people from all over Europe.
Discover the Anerkjendt men's collection on the Nuvolari store
Discover on the Nuvolari online store the best models of the latest Anerkjendt collections at advantageous prices. Among the flagship items we certainly find the Anerkjendt t-shirts, an ideal choice for your sporty casual city looks, combined with jeans and a pair of sneakers to complete your streetwear outfits with a modern and fashionable style. everyday life. Buy the Anerkjendt collection and all the best items of the most loved brands on the Nuvolari store and receive them at home in a few days.