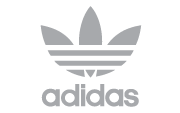 It doesn't matter what your style is or what subculture you belong to. Adidas Originals has been making sneakers and sportswear for everyone since 1924. From Adolf Dassler's small football boot production in his mother Pauline's laundry to the global success in over 160 countries. A brand that for almost 100 years has been one of the leaders in sports fashion. Iconic garments and sports shoes that have become real cult like the Adidas Superstar or Adidas Originals Stan Smith shoes. The German brand satisfies all lovers of sporty style and it's logo has become one o the most famous one, not only in the fashion world. The first three-stripe logo, born in the 1952 Olympics, was actually bought by the Finnish sports shoe company Karhu. The clover was presented in 1972 at the Olympics in Bavaria to be replaced in 1997 with the famous logo a 3 bars.
Discover the Adidas Originals mens collection on the Nuvolari store
Nuvolari fashion experts have selected the best Adidas Originals clothing and shoe models, which best embody a perfect union between style and sportswear. Let's start with sneakers: we first mentioned some of the most famous models including the Adidas Originals Supercourt and Superstar, to name a few of the most popular. Not only shoes, but also Adidas Originals t-shirts and sweatshirts with the logo declined in various shapes and colors. The Adidas originals Men's tracksuits and accessories cannot be missing either. Buy the best of men's designer fashion on Nuvolari with worldwide shipping!